Today we attempted slime





Definitely 5 stars. They turned down playing with the neighbor kids to make slime with mom. I know that Sunday is mother's day on the calendar, but in my world, I beg to differ!
Here is the recipe we used and we got it from
here
What you'll need:
Wire whisk

1 cup all purpose glue

3/4 cup water

1 tablespoon tempera paint, your choice of color

Borax
How to make it:
Mix together with wire whisk the all purpose glue, water, and tempera paint. I used the powdered tempera, but the liquid works just as well -- just don't mix the powdered too thin.

Mix separately 1/3 c. water and 1/2 tsp. borax. Slowly pour borax mix into glue mix.

Let stand a few minutes, then knead. Pour off any remaining liquid. Store in plastic bags.

Repeat for different colors.
Notes:
As in all recipes, results can vary depending on humidity, conditions, etc. Please try any recipe out before attempting in a group setting.
Then, of course our pictures from the event...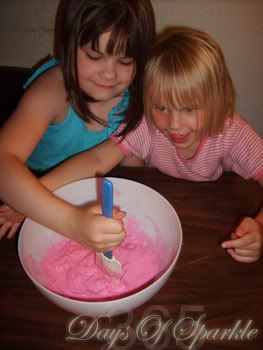 Look at that face!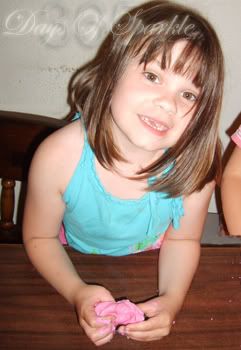 In this one you will notice that I circled a peice of slime in the process of falling off the table. How cool is that capture? A priceless smile and a priceless moment in time captured "on film".